I HAVE (in the recent past) worked quite a bit on Yaesu FT301 transceivers.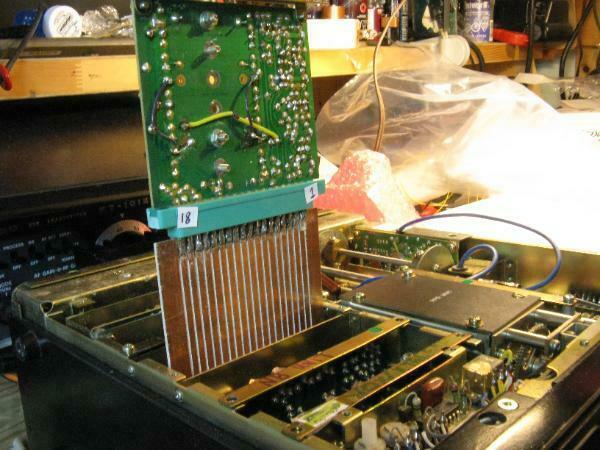 SUBSTITUTE TOP LATECHES for FT301 and perhaps other radios..
The items are available from Auto parts houses such as NAPA or Autopro and are
called "Push Type Rivets" . They are manufactured by
BALKAMP part No 665-1388 and are made for MAzda and Toyota vehicles.
I use them and they work fine. Picture to come soon.. page is being worked on from time to time — noted: July 3rd 2020
I have just recently (May 2019) started back working on FT301s. I picked up a used but fully working FT301S Analog transceiver and Im going to use it to aid me in troubleshooting circuit boards and my other two FT301s that have faults in them. This time.. I'm going to do resistance checks on the plug in circuit boards I want to trouble shoot. The resistance checks and close visual inspections should eliminate any unwanted problems to my good working set. — I was sort of tired of working on FT301s and I stopped working on them for awhile..but Iam back on the job now. So if you have needs of parts or you want to do a circuit board exchange — ie — send me your defective circuit board(s) and I will trouble shoot them and give you a working board back. — you can contact me: earl@nettyelectronics.com and I can help you out. I dont have any spare final output transistors right now for the FT301 but I have plenty of the smaller transistors, ICs and other parts. I dont have any TIL306s or TIL308s either.
Above is a picture someone sent me of their FT301 modified with a new digital display they purchased on the web. Thats the way to go as far as Im concerned. Use one of these commercially available (and relatively inexpensive) displays you can purchase off ebay.
I will be writing more and taking more pictures of the FT301 as time goes on. 73 earl ve3ab
Below — Pictures of the FT301 RF circuit board. It has two sockets for the Dual Gate Mosfets. One is an RF amplifer and the other is used as a MIXER. I tried various Dual Gate Mosfets for the RF Amplifer stage and found the SFE1612 was just a wee tad better as far as signal strength went. The SFE1612 is a Motorola Proprietary part and was (supposedly) used on Commercial Sonobuoy equipment. I have a good number in stock and I sell them for $5 a pop.